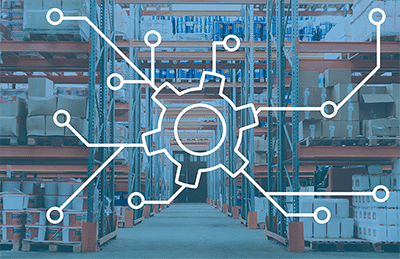 Powerful 3PL Solutions for 3PL's of Any Size
The key to success for 3PL's both large and small lies in the details. From accuracy to security to timeliness, relying on technology lays the foundation for a smooth operation each step of the way. At Wireless Data Systems, Inc. (WDS), we understand the value of data and we have built our business on the backs of state-of-the-art technology paired with unmatched customer service. In doing so, our customers benefit from 3PL Solutions that meet their specific needs.
With the onset of COVID-19, 3PLs have seen massive growth in business due to the rise in online ordering and online fulfillment. As such, it is critical that these companies can rely on dependable software to address said growth while maintaining a high level of security, accuracy, and accessibility. WDS can and has provided an answer to these problems in the form of the TSX™ 3PL Solution. With inventory visibility to see the status of everything received and reports generated monthly showing detailed information, nothing slips through the cracks.
Our TSX™ 3PL Solution is a very powerful system that relies on shared data and seamless integration options for all-size companies. With automated integration, a robust built-in billing module, and a customer portal for easy access, WDS technology truly transforms the business practices of our customers, and thus, their customers.
The days of communicating on paper are long gone. Today, 3PLs looking to achieve efficiency and accuracy must rely on a software solution that is customizable, web-based, and offers real-time data acquisition. At the end of the day, our TSX™ 3PL Solution serves one primary purpose: improving your bottom line.
TSX™ 3PL Solutions benefits
So, why use the TSX™ 3PL Solution? What features and benefits will it provide to you?
Automated Billing
Data errors have been the bane of 3PLs existence for far too long. Transactions must be entered accurately and timely in order to keep the company profitable and efficient. Unfortunately, 3PLs are at risk of losing 30% or more every month in transactions, all of which could have been billed for. In most cases, transactions either were not entered or entered incorrectly. These inefficiencies can kill a company's bottom line, and they are all avoidable.
The TSX™ 3PL Solution is a transaction-based system, meaning it is equipped to handle all different billing models and meticulously tracks billing for each and every transaction. The transactions are written into the system billing tables in real-time, including details such as the user ID that performed transaction and all pertinent data like item number, quantity, pallet ID, date and time down to the second, and more.
Then, the system takes that information and generates a monthly report outlining the transactions that the 3PL did for all of their customers, containing detailed information about when the transaction was executed and who executed the transaction, and then generates an invoice based on the 3PL's billing table.
Flexibility and customization put the TSX™ 3PL Solutions into a class of its own. Everything is customizable to address specific billing methods. Plus, 3PLs have the ability to edit charges to give customers discounts and make any other custom modifications necessary.
An automated system is imperative for 3PLs. All too often, transactions are lost on the floor when dealing with paper reports, manual inputs, and user error. As a result, lost revenue is inevitable. With the TSX™ 3PL Solution, however, billing is thorough, accurate, and error-free, ensuring that nothing slips through the cracks.
Customer Integration and Order Entry
Our 3PL customers sell their warehousing services to small, medium, and large partners which have goods that need to be picked, packed, and shipped to their consumer customers. If the partner is a small mom and pop shop, the challenge for the 3PL is that those partners do not have IT departments or technology to efficiently communicate those orders to the 3PL.
As such, these partners will either make telephone calls to dictate the order details to 3PL customer services reps (CSRs), who then must manually enter the orders into our 3PL system. The other typical method is to send emails with details about the order that the CSR then needs to swivel chair data enter from the email, or fax the orders to the CSRs, that again must be re-entered into our system.
To accommodate customers, large and small, the TSX™ Integration Manager provides the 3PL with multiple options to offer their partners to automate the import of their orders in a fast, accurate, and efficient manner.
SCORE™ Online Order Entry Portal
Our Online (Web) Order Entry Portal, called SCORE (Supply Chain Online Requisition Express), provides a fast and efficient tool that allows customers to enter orders directly into the 3PL system. The partners can create templates based on marketing campaigns for items where they expect high volume again, and with three clicks of the mouse place those orders in seconds. There are screens for a two phase approval/release process, or the orders may be released for immediate processing.
TSX™ Import Agent – Excel Spreadsheet Templates
We provide the 3PL partners with standard Excel templates with the format and required fields of information the partner must provide with their orders. Sometimes just providing the partner with a quick and simple format to follow the 3PL pseudo automates the inbound order processing. Excel spreadsheets are the least efficient process, but are the at least better than communicating order data via fax, email, or phone call.
TSX™ EDI Integration Suite
This interface is the most widely accepted between trading partners, and is the most widely selected method among medium to large partners. This proven technology imports the data from the 3PLs partners and automatically imports it into our 3PL system. We provide the 3PL partners with standard 3PL EDI templates that include the required and optional fields of information needed to process orders.
TSX™ 3PL Native Order Entry
The final interface is an order entry screen within the 3PL system that our 3PL customers' staff may use to enter the orders manually. These screens are similar to the SCORE™ system mentioned above, but is not meant for access by the 3PLs partners. It is for internal use and is used specifically for the partners that can only send orders via phone calls, fax, or email.
Additional Features
In addition, the TSX™ 3PL Solutions highlight inefficiencies in work production with industry leading data visibility. With the ability to showcase data that underlines employees who are working fast and efficiently, and those who are not, employee productivity skyrockets. Put simply, the system was designed to be brutally honest with data, which allows employers to recognize and reward their best performers.
Some of the most prominent benefits include:
Transactions-based system allows for maximum efficiency, as it looks at all transactions and puts them against billing tables to see what to charge customers
Billing tables for customizable services and rates that give 3PLs flexibility and control, allowing them to grow regardless of employee count
Real-time data collected makes operations efficient, accurate, and fast
Multi-level security offers 3PLs comfort and reliability
Extensive reporting keeps meticulous track of all transaction and generates invoices, ensuring that operations and billing are precise
Scalability with EDI Integration means companies can lean on automation, instead of personnel, to grow exponentially
Dashboards allow for transparency and visibility that enables users to see inventory and all transactions
Modern 3PL Software for All 3PL Challenges
The TSX™ 3PL Solution is a system unlike any other. Built from the ground up with state-of-the-art technology, 3PLs benefit from a rich feature set that not only addresses common challenges, but identifies future challenges before they become a problem. From saving time and labor costs to offering scalability and efficiency unlike anything of its kind, this customizable solution makes 3PL operations smooth and reliable. With an abundance of benefits and features, the TSX™ 3PL Solution plays a prominent role in improving your bottom line.
At WDS, our 3PL solutions benefit from our more than 25 years of experience in successfully designing and implementing complete software and hardware solutions for some of America's most well-known corporations. We are committed to continually pushing the envelope as we utilize technology to exceed our customers' expectations and identify opportunities for future growth.