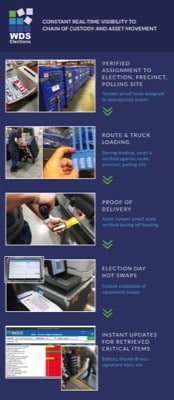 Department of Elections Security
Department of Elections infrastructure is complex and often logistically challenging. As such, security and protection are of the utmost importance in relation to both hardware and software solutions. At Wireless Data Systems (WDS), we are consistently on the cutting-edge of technology advancements, ensuring that our clients are equipped to handle data in the most efficient, secure, and effective manner. With this in mind, we are thrilled to announce the new assets upgrade for security!
When a department of elections is charged with upgrading its equipment for enhanced security and protection, there is a significant effort in receiving the new assets into the department's accounting systems and operations environment (i.e. warehouse, spoke warehouses, staging facility, etc.). That's where we come in…
Superior Advancement in Elections Security with TSX™

Our TSX™ Election Solutions products provide a fast and secure method for receiving assets from the manufacturer, tagging them with permanent Asset Tags, and recording the new Tag Number and Equipment Serial Number(s) quickly and accurately. In addition, the solution supports multiple Serial Numbers associated with a single asset where parent-child assemblies for a primary asset and accessories or cases.
For example, let's say that we are talking about a tabulator machine with a stand and protective cover/case or outer carrying cases for EVIDs, one case, and multiple EVIDs. TSX™ provides a workforce with the tools and processes to ingest new assets with speed, security, and accuracy. These features are crucial in the process of protecting and securing assets during pre-election activities, Early Voting, and Election Day activities.
TSX™ Elections offers a complete real-time tracking system for election departments of all sizes. Some of the most prominent elements of the system include:
Automation of ballot ordering
Tracking of receiving activity
Storage of all inventory and assets during pre-election activities
The direction of picking and transferring Absentee, Early Voting, and Election Day Ballots
Management of Precinct Assignment for assets and supplies
With the ability to validate the loading of ballots, supplies, and equipment into delivery vehicles heading to polling sites in real-time, there is truly no superior elections supply chain solution for Departments of Elections.
The Power of Data Visibility

Wireless Data Systems (WDS) is driven by the revolutionary complexity of data management. At our core, we make sure that our clients are able to make the most out of their data, keeping flexibility, scalability, and profitability at the forefront of all that we do for them. Whether we are working with a standalone system or a complex supply chain, we handle each and every client with the same dedication to speed, accuracy, and security.
Are you ready to increase efficiencies while lowering costs? Contact our Boca Raton office today to learn more!